December 7, 2021
·
10 min read
Get inspired by these heartfelt, authentic, and personal holiday video ideas.
Holiday videos are among the few opportunities marketers, and sales folks have to set aside their (well-intentioned) product-pushing agendas and focus on making a really good video, for the sake of making a really good video. And, as some of the most creative culture videos out there, holiday videos should show off the real heart of your company—whether that's family-focused, laugh-out-loud funny, or maybe even edgy.
If the thought of coming up with the perfect holiday video is cramping your holiday cheer—relax. We've rounded up a list of holiday video ideas so good that you're going to want to pull a Grinch and steal them all. And you can! In fact, you should bookmark this post and come back to it year after year.
From big corporate commercials to personal email video greetings, the holidays are your chance to say thank you to customers and contacts and a great way to flex those storytelling muscles to create pure enjoyment alongside brand awareness.
So toss on those holiday tunes and grab a box of tissues because things are about to get merry and bright up in here (not because it's also cold season).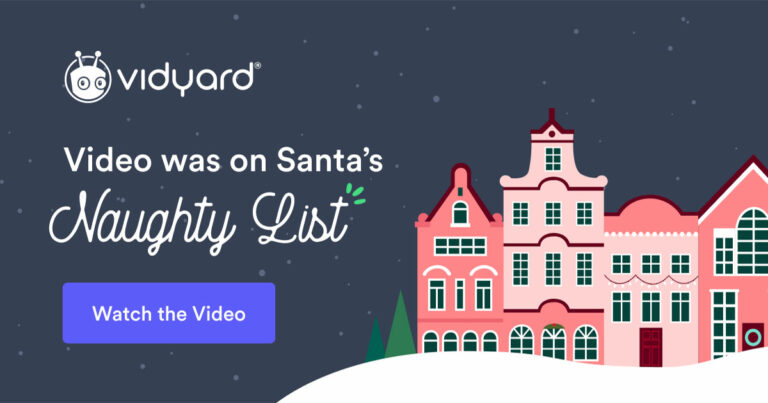 Record and Send Your Own Holiday Video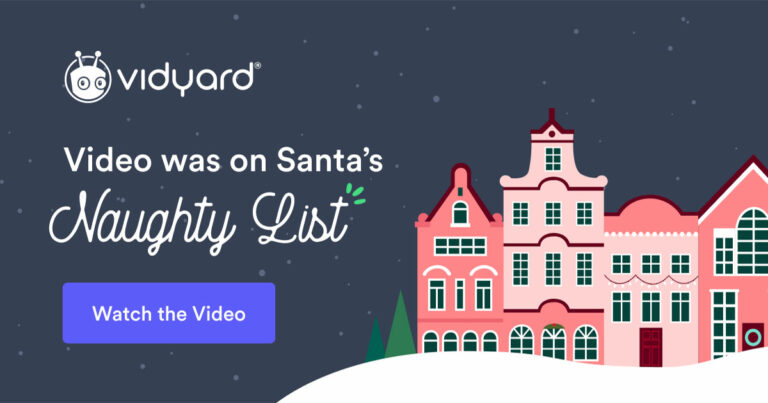 Sign up for a free account to create videos and share it all in one place.
Sign Up Free
Blockbuster Commercials: Holiday Video Ideas That Go Big
Let's start with the blue sky ideas: Big companies, big budgets, and big production value. The most successful corporate holiday videos can be as quotable and memorable as your favorite holiday movie. The key is to focus on brand awareness and full-fledged entertainment value. Whether you're a big brand or aspiring to their level of warmth and fuzziness, there's something here for you.
1. Coca-Cola: "Chimney"
This commercial surprisingly features the classic Marry Poppins song, Chim Chim Cher-ee. This heartfelt Coca-Cola Christmas places an emphasis on the community spirit and guess what? The campaign starts by showing a young boy feeling sad living in a chimney-less apartment block. He soon begins to rally his neighbors to build a cardboard chimney to make sure that everyone gets a taste of the holidays! Remember, a magical Christmas is shared with our loved ones and community.
Stealable Tip: Sometimes, associating your product or services with an overarching theme is the best way to convey a message to your audience. Coca-Cola is attempting to associate its beverage with food and social feasting occasions. Creating an association helps leave a lasting impression for your potential consumers about what your brand is all about.
2. Ikea: "Assemble Together"
Ikea commercials are usually on point and the holiday versions are no different. This masterpiece starts by visiting a typical Canadian household of South-Asian heritage. It seems like a family from different generations is "Assembling Together," as Ikea intended to convey. The twist is that a traditional Christmas soundtrack does not follow it. Instead, you'll find the infamous Bollywood tune "Chaiyya Chaiyya" that can be recognized all over the world. Ikea wanted to reflect that all families create and love celebrating traditions all their own.
Stealable Tip: Often not, creating warm, heartfelt messages is the best way to connect with your audience. Ikea wanted to reflect the changing traditions and how families celebrate. They also added nostalgia with the Bollywood tune and had their products part of it instead of the main focus.
3. Amazon: "Kindness, the Greatest Gift"
We all know the challenges presented by the pandemic, and many of us, including young adults, have felt its effects. Amazon's newest advert displays a story of kindness and gives a glimpse into a post-pandemic world. It follows the journey of a young person struggling to cope with post-pandemic anxiety. Re-entering a social setting can be challenging after spending countless months apart, whether attending lectures or even gathering with friends. A kind neighbor recognizes her struggles with rejoining the world and reaches out to her with subtle gestures, forming a new friendship.
Stealable Tip: Storytelling is what keeps your audience wanting more. Many people are invested in this character's growth and see if she would truly feel better in a post-pandemic world. Who doesn't love a good story?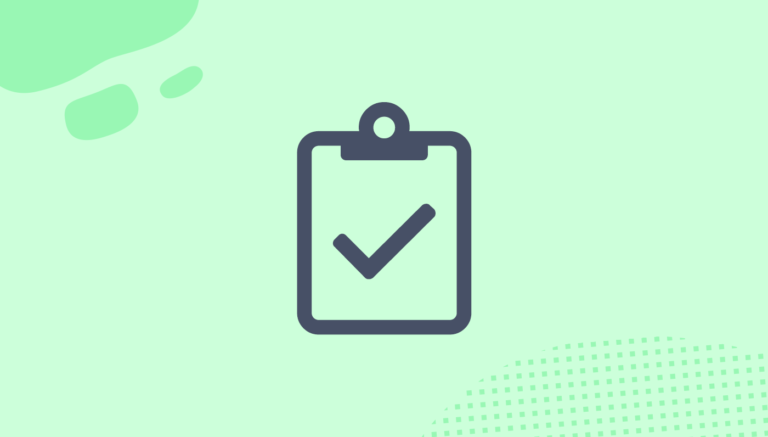 Get the Culture Videos Checklist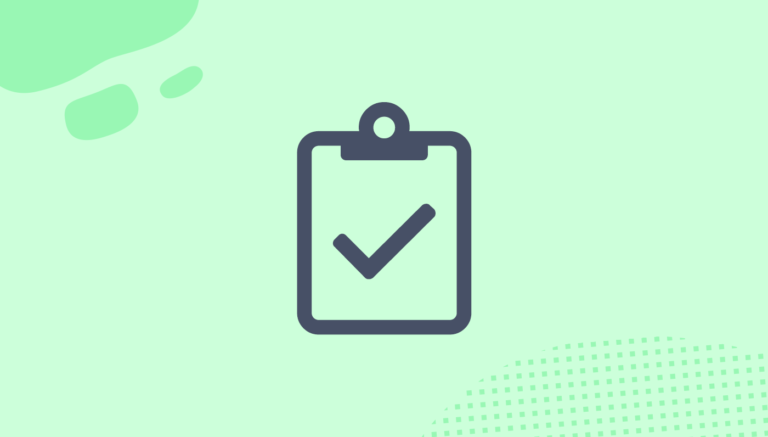 Ready to make a company culture video? This list covers all the things you need to know to get it right.
Get the List
Personalized Picks: Holiday Video Ideas with a Personal Touch
Now we've seen how the pros make creative marketing holiday videos. But if you're not in the market for a million-dollar TV commercial, there is another way to wow viewers while also stirring up engagement, and it's all through the power of personalization.
Remember Elf Yourself? Originated in 2006 by the advertising firm Toy New York for OfficeMax, this internet classic generates a video with your face on a dancing elf body. It was racking up 200 hits a second in its first year—which just goes to show how much people love something that's personalized to them. Now there are ways for businesses to create a (somewhat more professional) personalized video to delight audiences.
4. Axonify: "Who Saved Learning in Whoville?"
Because personalized video is best sent through email, you can get as specific as you want when addressing your audience. When creating their personalized video, the microlearning platform Axonify went with the 'choose your own adventure' approach. Video CTAs added at the end of the intro video let the viewer decide what path the grinch (featured prominently in the video) chooses to take.
Stealable Tip: Don't be afraid to lean into pop culture or holiday favorites to hit that nostalgia button with your audience, and you're sure to delight.
5. Vidyard: "Video Was On Santa's Naughty List"
Vidyard has a long-standing tradition of creating an annual holiday video. In this example, we see Santa struggling to understand how to use video and the funny mishaps while adapting to remote work. You know, like standing up during a video call when you forget that you're only wearing your "fancy" top but not your bottoms.
Stealable Tip: Recognize a common issue or frustration your audience can relate to and have a little fun with it. Like accidentally having your Spongebob Squarepants pajamas noticed on a Zoom call or being stuck on mute when it's your turn to present—these are all things we have to laugh off right now. Let your customers know that you get them and build that bond!
Viral Videos: Holiday Video Ideas Fit for the Masses
Personalization is great, but if you don't have a defined list of recipients or your primary distribution channel is social media, you may need something more general. With a scrappy budget and time to plan, a shareable holiday video could be just what you need for a wider reach. The following are examples of holiday videos that everyone can enjoy.
6. Hootsuite: The Hootsuite Holiday Owl
Two words: SO. CUTE! Social media software company Hootsuite added their own twist to the fireplace channel with this adorable 40-minute yule log video of a sleepy little owl basking in the glow of a crackling fire. One shot, one set, one owl. Cozy up with a blanket and watch it for yourself. (Lagavulin Whiskey executed the same concept with Nick Offerman and a bottle of whiskey, if that's more your style.)
Fun fact: The owl was from a wildlife rehab center and his name is Snoopy.
Stealable Tip: With all the time and effort you put into video creation, it's great when you make something that your company can repromote year after year. Hootsuite made this video in 2014 and it still rises to the top of their holiday content every year, because it's still great!
7. ADsmith: "Jingle Bell Rock: A Holiday Lip Dub"
Between the teens on TikTok and James Corden singing karaoke in cars, it's hard to go wrong with a musical greeting. Feature your staff's own smiling faces on camera for a personal touch like the employees of the marketing agency ADsmith did with "Jingle Bell Rock." It's a simple, but well-executed, lip dub video that takes viewers on a tour around the office while letting Adsmith's company culture shine.
Stealable Tip: "Silent Night" is the most covered holiday song on Spotify with over 26,000 different versions available on the streaming platform. Classics are classics for a reason. Play on people's nostalgia by nodding to existing pop culture references from music and film.
8. Confirmit: "Happy Holidays from Confirmit"
It's an old rule of thumb that actors should refuse work involving children or animals. In the case of this video, no actor was necessary! Instead of hiring actors, the insight and customer research software company, Confirmit, created a heartwarming holiday video featuring an adorable puppy accompanied by text on screen. Even though it doesn't use personalization technology, the video feels incredibly personal as the story takes place within a text message thread between the viewer and the precious pooch. This video is short, sweet, and shareable on social media, email, even text message.
Stealable Tip: The key to a polished video on a scrappy budget is using your existing assets—especially if that asset is an adorable puppy.
Personal Holiday Video Ideas
9. A Jolly Sales Follow-Up Video
For 2021, Vidyard launched its 12 Gifts of SaaSmas campaign, chocked full of goodies to help sales teams scale themselves and their sales efforts. Using video as a follow-up to an inbound lead or sales conversation is an impactful way to put a face to a company and help make connections in overcrowded inboxes. And that's exactly what Davis from the Vidyard sales team did with his follow-up video for those interested in the SaaSmas campaign.


Stealable Tip:A festive background (virtual or otherwise) is a low-budget way to add some holiday cheer to your user-generated follow-up videos.
10. A One-to-One Holiday Greeting
If the "dog ate your video" or if (like with your shopping list) you've unexpectedly run out of time, you have one more option to create an awesome holiday video that your audience will remember. I'm talking about a one-to-one webcam video (a.k.a. a selfie video). It's easy, free, and just about the most personal you can get.
Stealable Tip: No need for fancy equipment or software. You can download Vidyard and start firing out your own personal video greetings today.
Remember, December isn't the only time to create awesome culture videos. Delight your audience year-round with videos for every holiday!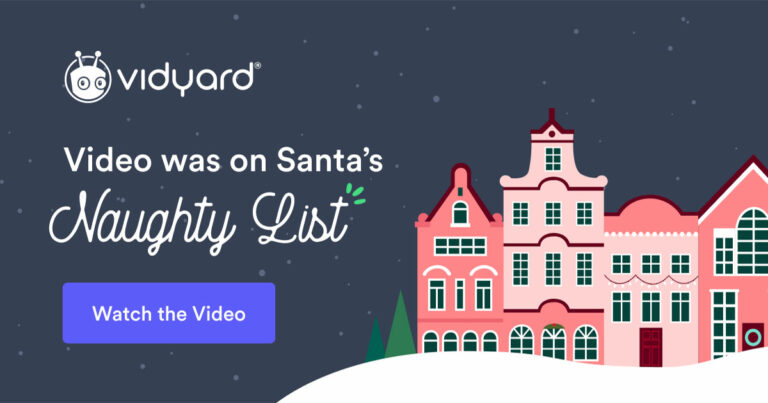 Record and Send Your Own Holiday Video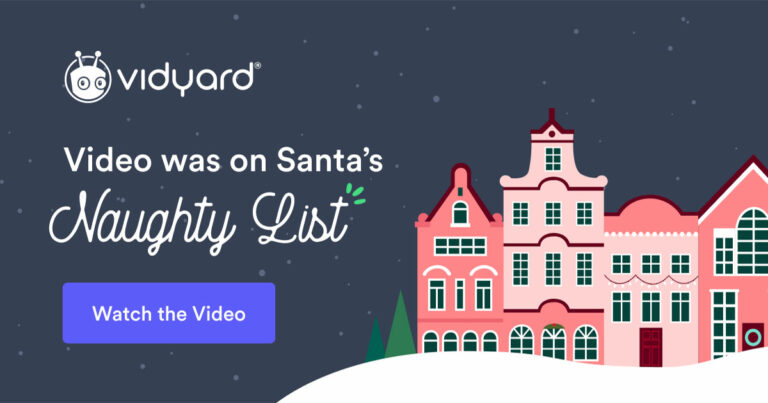 Sign up for a free account to create videos and share it all in one place.
Sign Up Free
This post was originally published on November 15, 2019. It was updated on December 7, 2021.